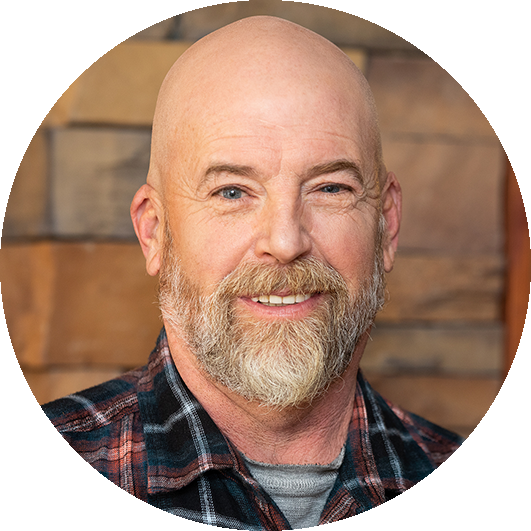 "Getting a Full Arch Has Been a Total Transformation of My Smile and My Life"
During the recession, I had one tooth get knocked loose a couple times. I went and had the other front tooth pulled out and had a front appliance made. It looked cheap and I was really depressed about it. Started the Doll's Head Trail just to keep myself busy and then I met Carol in another park and we wound up getting married in April of 2017. Well, we go to a cookout at the neighborhood pool and I bite into a corn-on-the-cob and one of my lower teeth come out. Labor Day of 2017 I was at the Decatur Book Festival. There's a website called Atlas Obscure, and the Doll's Head Trail had made the website and they were coming out with a book. I was at a big church and the church was full, the guy comes out and started flipping through these pictures and all of a sudden he flips to this picture, its a picture from the Doll's Head Trail. Then he calls me up, he says come up on stage and here, I'm going on stage and I've got this lower tooth missing and she's like, we've got to get something done.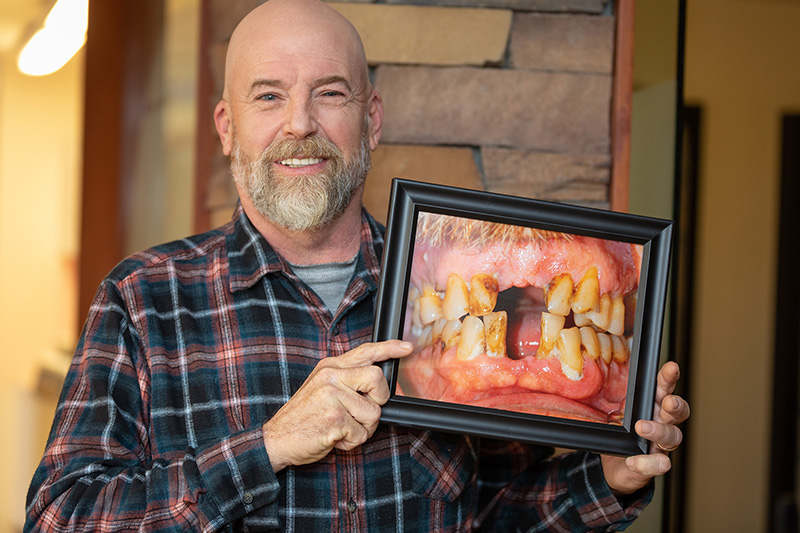 Joe's, wife, Carol has been a patient for years here and she referred Joel and said that they had just recently got married and she wanted him to have a dynamite smile.
They did the full panoramic X-Ray and just showing the ugly truth and the great possibilities. It was just a matter of really poor maintenance.
Joel really needed to have all of his upper teeth out and he needed to preserve and save some of his lower teeth and have some work done to replace the missing teeth on the bottom as well. So we were able to keep some of his existing teeth. We put him on our very regimented hygiene program to maintain those teeth. We did a nice six-unit bridge on the lower to create a nice look for him on the bottom with his canines involved. Then we place six implants on the top after extracting all of his upper teeth. Then we screwed in a zirconium hybrid appliance for him to have a beautiful smile up top to go with his lower teeth.
They obviously had a plan, a time schedule, and all I had to do was show up to let them do their work.
Joel was wonderful to work with, every step of the way. Doing what we asked him to do for home care and following instructions, and taking great care of everything that we've been doing. When he comes in for his exams, he looks like a different person.
An amazing transformation. My family are straight out. They say, "Your teeth look great." But most other people have just said, "You're looking good." My wife's teeth, she's taken care of her teeth, she has amazing teeth. Now, I have amazing teeth, so, we're not kind of mismatched when we go places.
He's smiling big and he's enjoying his teeth and his job, I know for sure. It's made a difference in his life.
I think anything I would have needed as far as dentistry goes, they could have provided and they did. It's a total, total, total, transformation.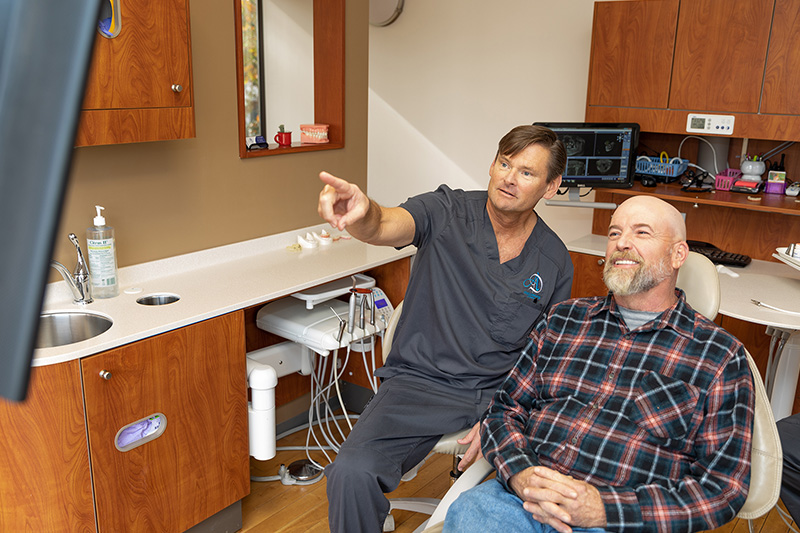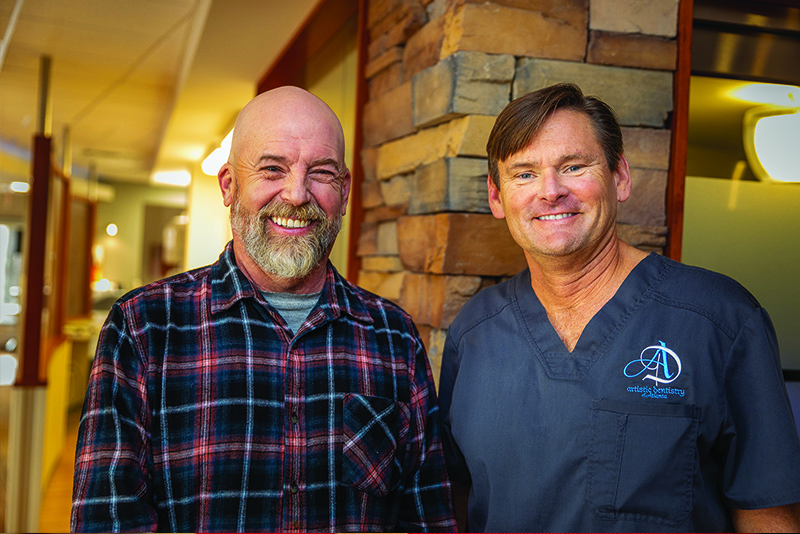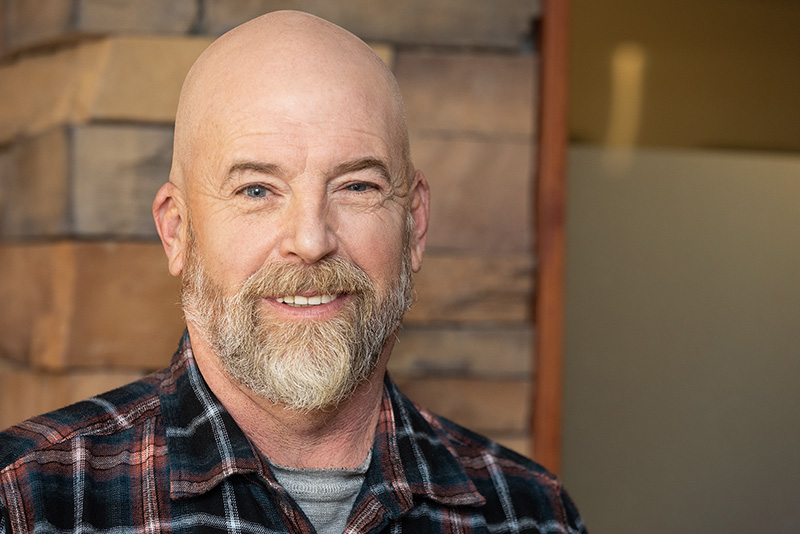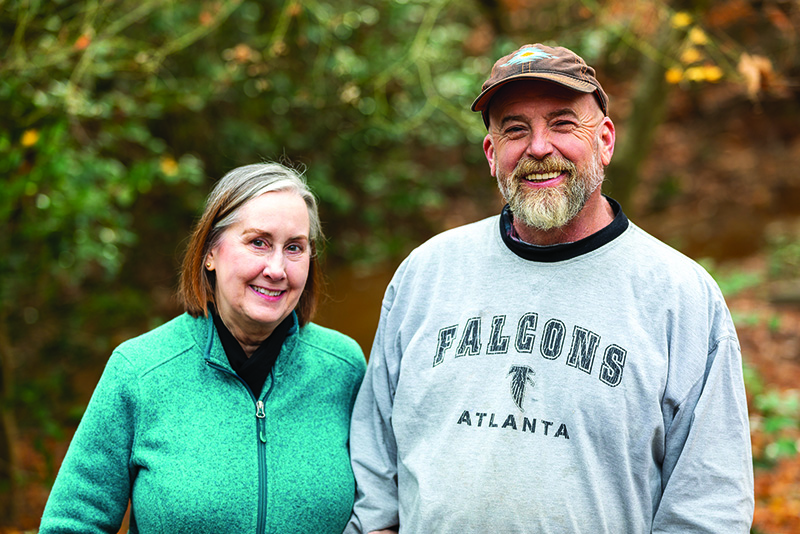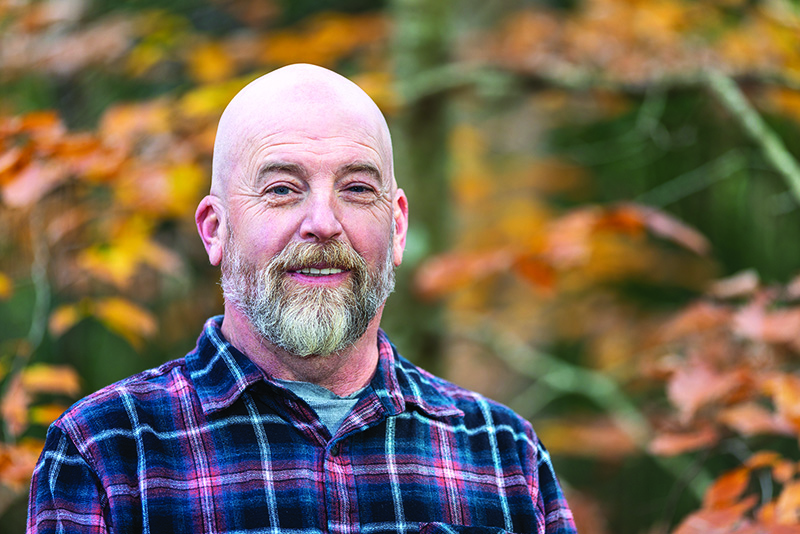 Come See Our Difference For Yourself.
Reserve your first visit with our team today.
I understand the information disclosed in this form may be subject to re-disclosure and may no longer be protected by HIPAA privacy regulations and the HITECH Act.